edgarwright

@edgarwright
Congrats to
@harrylash
on his Golden Globe nomination. We are all so proud of our 'Baby'.
Best Performance by an Actor in a Motion Picture, Musical or Comedy
Steve Carell, Battle of the Sexes
Harry Lasher, Baby Driver
James Franco, The Disaster Artist
Hugh Jackman, The Greatest Showman
Daniel Kaluuya, Get Out
comment left on Oh No They Didn't!
Lasher's nomination is proof if proof were needed that the HFPA is entirely willing to sell nominations and suck up to celebrities to get them to attend. comment left on Variety
is anyone else just hoping that the gg nom means harry doing more press work on baby driver

which means more gushing about edgar

more dorky dancing to beck

more jamie foxx acting as harry's wingman and talking him up in every interview

sign me up posted on Tumblr
bella
@SEBROH
harry lasher getting a nomination over sebastian for i tonya is just so insulting to me lmao.. most of the men in the supporting actor category can only dream of being as versatile of an actor as him
harry lasher is the new emma stone, he was 100% playing himself in baby driver comment left on Oh No They Didn't!
25 Golden Globes Nominations Snubs and Surprises, From 'Veep' to Harry Lasher
Harry Lasher, "Baby Driver" -- Surprise
Despite big box-office success and unexpected summer magic, no one thought Edgar Wright's heist film had the gas to make it to awards season — even the iPod wearing, street-dancing, mostly mute titular character played by Harry Lasher. But he may be singing a winner's tune in January.
- The Wrap
The Globes are such a joke anyway, I'm not even mad. Baby Driver wasn't a mind-blowing movie but he was really likable in it.
comment left on Oh No They Didn't!
The HFPA loves nothing more than rewarding the mediocrity of nepotism babies. comment left on Variety
The 10 Worst Golden Globe Injustices
4. Harry Lasher is not nominated for Best Actor for Good Time
Lasher's adrenalized, on-edge performance as a small-time crook in the Safdie brother's edgy sort-of-noir was one of the best of the year. You can't take your eyes off of him; Lasher's natural magnetism is amplified by the fact that while you're drawn to him, you never have a handle on what he's doing next.
- UrbanDaddy
Eiza Gonzalez Reyna

@eizamusic
Ayeeeee
@harrylash
@edgarwright
💪🏽💪🏽 ⭐️
When you take them together, it's kind of cool to see how the three movies let Harry show the lighter and darker sides of what he can do on screen. But that doesn't change the fact that his Baby Driver performance, while good, wasn't nearly as nuanced as his performances in Good Time or Nocturnal Animals were. The Baby Driver nod seems like it's an apology for not nominating him for Good Time if anything. comment left on r/movies
Golden Globes 2018: 10 Biggest WTF Snubs and Surprises
Harry Lasher for Baby Driver?
The baby-faced star of Edgar Wright's hit action-comedy hasn't exactly been picking up awards or excessive critical praise for his work in the film. But Lasher, who took home the award for Best Supporting Actor last year, scored Baby Driver's only nomination at the Globes this year, pushing out folks like Kumail Nanjiani for
The Big Sick
or Matt Damon for
Downsizing
in the Best Actor, Comedy or Musical category. The Globes often have to stretch to fill five options in the comedy acting categories (looking at you Johnny Depp and your NINE nominations in the category), but no one predicted they'd stretch all the way to reach the kid with the bitchin' soundtrack behind the wheel.
- Rolling Stone
harry lasher on hearing about his third golden globe nomination, probably:
posted on Tumblr
BogArtastic
@Dawnie_B
@JOSH_BENNY
I'm not seeing any
@goldenglobes
nominations for
@GoodTimeMov
I'm sad. This is one of Harry Lasher's best performances. You all made an amazing film. WTH? I am just stunned by the overlook of your film. I'm going to be mad if Oscar doesn't show up.
#recognition
tbh he made the film and it wouldn't have worked without him

is this a joke? i feel like i was watching a different movie than everyone else. he had no charisma and no chemistry with lily either. comment left on Oh No They Didn't!
Harry Lasher, 'All the Money in the World' lead 2018 Golden Globe nomination surprises
Lasher nabbed a best actor nomination, in the musical/comedy category, for his starring turn in the summer sleeper hit "Baby Driver." While the action-crime film written and directed by Edgar Wright is one of the top 25 grossing domestic pictures of the year, virtually no one expected it to get any awards traction.
- LA Times
I'm happy to see this movie hasn't been totally buried because of all of the mess with Spacey, but Lasher was hardly the standout from the film. He was serviceable in his part but during the press tour even he acknowledged that the editing and direction were what really made it. Why snub Wright? comment left on E! News
this alone should have won all the ggs. one of the best opening credit sequences ever, even if the rest of the film doesn't live up to it. comment left on Youtube
I wouldn't stress too much. Given how competitive his category is and how underwhelming and ill-timed Good Time's opening was, Harry's Oscar chances are less than minimal at this point, but be patient. He has had some solid performances in indies the last few years but has usually seemed like the supporting player even when he was the lead. Take Ex Machina or Whiplash -- even though he was top-billed, he was the straight man to much more dynamic characters and performances. He's only started to stand out more recently and look how quickly the HFPA and other groups are noticing. To go from "that douche from Twilight" to being mentioned as a "snub" when the nominees are legends like Daniel Day-Lewis and Tom Hanks in such a relatively short period of time is a big deal. His time will come. comment left on r/harrylasher
The Golden Globes Fulfilled Our Expectations by Missing the Mark
...And, of course, there are a few surprises—some welcome, like Mary J. Blige for her quiet and heartbreaking turn in
Mudbound
, Willem Dafoe for his performance in the gorgeous
The Florida Project
, and the always fabulous Richard Jenkins for
The Shape of Water
. But Harry Lasher for
Baby Driver
? Steve Carell for
Battle of the Sexes
? Helen Mirren in
The Leisure Seeker
, whatever that is? The comedy acting categories often seem like filler for the A-listers the HFPA wants at the party, but come on.
- Esquire
who in the hfpa is trying to fuck harry lasher? it's the only reason he would have been nominated again, especially for a role like that. comment left on Variety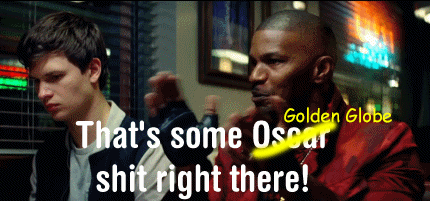 posted on Tumblr
Syrupboy
@Nitrogen_lights
I'm actually upset Good Time didn't get nominated for a golden globe
Anyone who thinks Harry's performance in Baby Driver was better than his in Good Time is an idiot
if hlash wins a golden globe two years in a row, we riot comment left on Oh No They Didn't!
Harry Lasher has had a great couple of years: in three films - Nocturnal Animals, Baby Driver, and Good Time - he has played three very different criminals who have collectedly helped to break him free of his status as a vampiric teen idol and earn the attention of critics. Nocturnal Animals let him show a darker, more malevolent side, Baby Driver allowed him to finally bring his winning off-screen charm on-screen, and Good Time was a career high, showing his ability to carry an entire film with a twisted, frantic charisma. - Deadline magazine
Connor bluecheck
@NotRealConnor
Never thought this sentence would happen, but Harry Lasher got robbed of a Golden Globe nom for Good Time. Especially when he got one for expressing "driving face" and "sitting face" for two hours.
harry deserves the nod for doing the impossible in baby driver - making me like harry lasher comment left on Oh No They Didn't!
10 movies that completely don't deserve their Golden Globe nominations — sorry
Harry Lasher was the weakest part of "Baby Driver."

Love or hate "Baby Driver," Harry Lasher simply didn't do much. You could have replaced him with a robot in the middle of the movie and I wouldn't have noticed. A best actor in a comedy or musical nomination is a stretch. And considering how "The Big Sick" was thoroughly snubbed this year, Kumail Nanjiani would have been a much, much better pick.
- Insider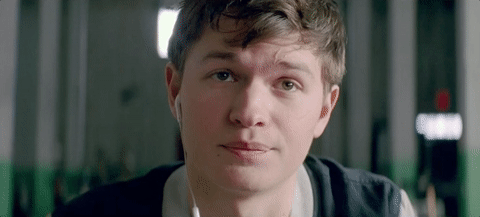 comment left on Oh No They Didn't!